Among the memories and favorite things that Mary Ann Bucci paints are churches, schools, restaurants, ice cream and nut shops, pizza parlors, golf courses, farms, and many homes and businesses in America and even scenes of Ireland, England, Africa, and Italy.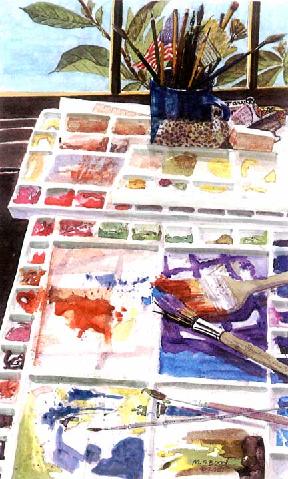 Mary Ann paints favorite places to record for history or cause someone to take notice, and many are available in prints, so that everyone can enjoy the memory. In addition to prints, several of her paintings have been reproduced on pottery, church bulletins, annual reports, magnets, textiles, and on Lumi-Lite Candle tins for several years. "Zanesville A Community of Churches", a montage of 50 churches in the small community she calls home, was the first and, perhaps, the favorite of her memory paintings. Her painting of the "Y-Bridge" has been reproduced on t-shirts, popcans, phonebooks, prints, magnets, billboards, and a six foot postcard, that went to the State of Ohio's bicentennial celebration. Her works also include a walking tour map of downtown Zanesville, and designs on McCoy pottery and other pieces at Buckeye Stoneware.
Mary Ann's artistic metamorphosis has evolved slowly, beginning with a great love of art in childhood, progressing through the volunteer stage of posters, signs, banners, and teaching art as an active young mother, to the present. Now she works fulltime as an artist, completing several paintings a week, many of which are donated to charities, schools, and churches.
As an active professional artist, she speaks at many school career events, service clubs, and local universities. Because everything is of interest to her and has merit, Mary Ann's art education has consisted of experimentation, books, museums, and a close observation of all life. She keeps a small microscope next to the kitchen sink and a camera ready at all times to observe and record the world around her. With over 2 million reproductions of her work, Mary Ann is no longer a neophyte to the business of art, but she has relied heavily on the expertise of fellow artists, plus the salesmanship of her husband Ron.
Although best known for her small watercolors, Mary Ann has painted several watercolors over 4 feet tall and oils over 8 feet. Two such large paintings, "The Canal Gatekeeper's House" and "Weller Theatre", which hangs at the Zanesville Welcome Center, were part of the Ohio State Fair Fine Arts Show and the Zanesville Bicentennial Art Show. In addition to art awards, Mary Ann has received the Woman of Distinction Award, the Ray Thomas Community Award, and the Martin Luther King Community Award. Although she is best known for her "hometown memory" paintings, her favorites are the ones that express feelings, like the basket paintings that she has completed as special incentive awards for Longaberger consultants around the country; the "historical watercolors", so called because they include a written story about her family's history; and the "Faces of Grief" a four part series that she painted following the death of their daughter.
Mary Ann is a member of Zanesville Appalachian Arts Project, the Ohio Watercolor Society, the Southeastern Ohio Watercolor Society, and has served on the Zanesville Art Center board, the Putnam Underground Railroad Education center board, and she and her family oversee the Ronna Bucci/Dr. Dietz Art Scholarship awards. Her future plans include writing and illustrating a book about dogs and people and how they overcome the pain of "Losing Your Best Friend". With the support and encouragement of family and friends, Mary Ann paints her world for the pure enjoyment of recording a familiar moment in time.